Ask any real estate expert and they will all say the same thing: kitchen remodeling projects are one of the smartest ways to increase your property's value. Remodeling your kitchen will not only add value to your home, it will also present you with an opportunity to create a welcoming and functional space – after all, the kitchen is the heart of any home! Unfortunately, many people don't know when, why, or how to start a kitchen remodel. In the age of DIY projects and home improvement television shows, there's no shortage of kitchen ideas and trends, but unless you're an experienced designer or contractor, you'll definitely need some guidance and professional help from those in the remodeling industry before you put your time and money into an extensive remodel. Here are some things to consider when going forward with your next kitchen remodel.
Envision It
While this may seem obvious, it's vital that you create an extensive list of what you want to achieve with your remodeling project. Which appliances need to be replaced or added? Do you want your kitchen to have a sleek modern feel, or would a traditional kitchen fit best with your home and your style? You don't need to worry about specifics just yet, (such as what finishes you'll want), but you should have a good idea of what thematic and practical goals you want your kitchen remodel to accomplish.
Do Your Due Diligence
Remodeling your kitchen is a big undertaking that requires an investment of your time, money and patience. While it may sound boring to spend hours poring over information and doing your research, you'll become a more knowledgeable homeowner through the process, and your work will result in a much better finished product. Even though you may find the home remodeling process frustrating at times- it will be extremely rewarding and satisfying when all is said and done!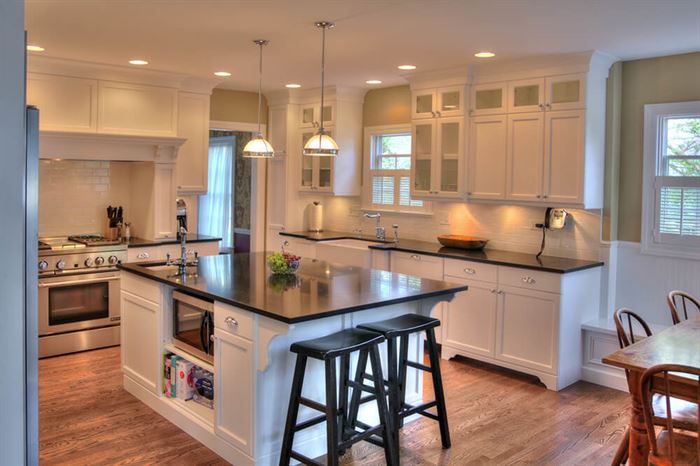 Leave It To The Professionals
Even if you think you're the best handyman on the planet, you're going to need a lot of help with your remodel. Professional design remodelers have the experience, the proven know-how and can help you make the most out of your new kitchen. Anything from planning the space to picking out the right cabinets and finishes are well within the skill set of professional remodeling contractors like us here at LaMantia Design and Remodeling.
Money Smarts
The latest and greatest kitchen trends may be all the rage on Pinterest, but they may not stick around forever, so be smart with your finishes and appliances (do you really need that 2nd wine refrigerator?) It's usually a smarter move to bypass super trendy add-ons and put your money towards upgrades like a second sink, higher quality cabinets, and durable, high-quality flooring. While it's tempting to go cheap on the less exciting items like cabinets and tile, you'll be regretting the wine fridge when the floor starts to wear and your cabinets fall apart. Your home is one of the biggest investments you can make and the kitchen is one of the most utilized spaces in it, so be kind and it give it the thought and attention it deserves.

Bottom Line
Renovating a kitchen, like any large-scale home improvement project, is a major decision and long term investment. With some patience and the help of expert design & remodeling contractors, you can add some serious value to your home as well as create the kitchen you've always dreamed of – the place that you can call the heart of your home for years to come.