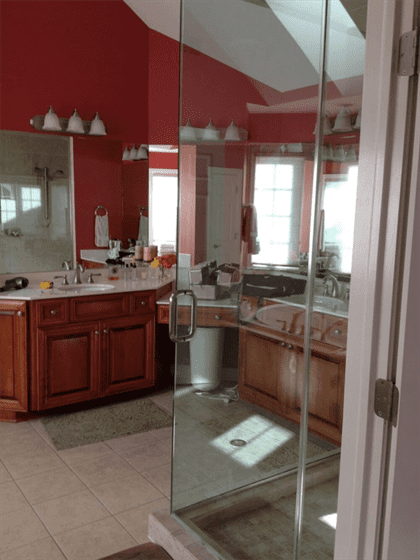 We love doing bathroom renovations, so we were excited when our clients wanted to professionally update their 15-year-old Hinsdale home.
LaMantia designer, Jackie Prazak, with help from Katie Suva, CKD, CBD, initially shared her vision for this master bathroom bathroom remodel, which included a new walk-in shower in a new location. The clients loved this idea and were immediately on board!
Why Relocate the Shower?
Prazak made the decision to move the shower because it allowed for a design that capitalized on the entry view and the ceiling volume. She virtually took the clients through the bathrooms with a digital mock up of their space, and they were able to see the new glass entry doors and the new shower on the computer.
Bathroom Design Details
Prazak's plan for the bathroom remodel also included removing a large drop-in tub and re-imagining the linen closet to appear as a tall furniture chest nestled into the original closet space.
A combination of soft gray and white tiles and paint colors created a relaxing atmosphere, and they paired beautifully with the rich darkness of the chosen woods and finishes.
Because the clients were so impressed with the bathroom design, they hired LaMantia to complete their Hinsdale kitchen renovation too!