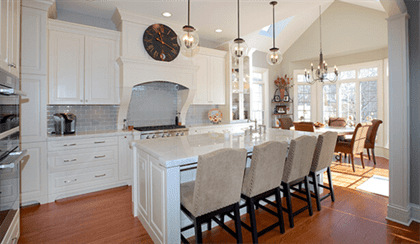 The project began as a Master Bathroom renovation. As the bathroom design and material selection moved along, the very satisfied clients, decided to have the award-winning LaMantia team of Jackie Prazak and Katie Suva, CKD, CBD move into "kitchen mode".
Although the working triangle of the kitchen was locked into place, the visual renewal has been tremendous. While perusing Prazaks' portfolio, the client's admired a coffered ceiling from a previous project and with this direction the new design began to take shape.
To accept the planned Family Room Coffers, Prazak slid a wall into place between the two rooms; this wall not only offered the necessary capture for the ceiling structure but was also dressed with an expansive arched and elaborately moulded opening, adding yet another detail to the design of the entire space.
With the backdrop of the space designed, the kitchen details of creamy painted cabinets, 2" thick Iceberg quartzite counters, glassed splash tiles, specialty wired cabinet glass and over sized carpenter milled wood hood corbels set the stage for this fabulous finish.
With this marvelous finished product, it's evident that LaMantia not only creates a beautiful kitchen, but we take the design to the next level. Most contractors are capable of replacing your cabinets and countertops, but with designs of this quality, it's clear the LaMantia designers will take your project far past the ordinary and create a completely new experience within your home.