Previous clients were so pleased with the award-winning remodel of their Burr Ridge home, they returned to LaMantia designers Jackie Prazak and Katie Suva, CKD, CBD when they decided it was time for a basement renovation of their unfinished lower level. The main goal for this basement remodel was to accommodate their growing family.
Original Home Remodel Project
The main floor of this clients' home was remodeled in 2013. This included removing an extra bedroom and powder room to make space for a large kitchen remodel, which proved to be an award-winning project.
Basement Renovation Project
When it came to renovate the basement, the clients wanted to reclaim the two spaces they lost – a bedroom and a bathroom. They also had a list of desires that included room for a pool table, plenty of game storage, room for grandchildren to play, and a comfortable place to watch TV and movies together.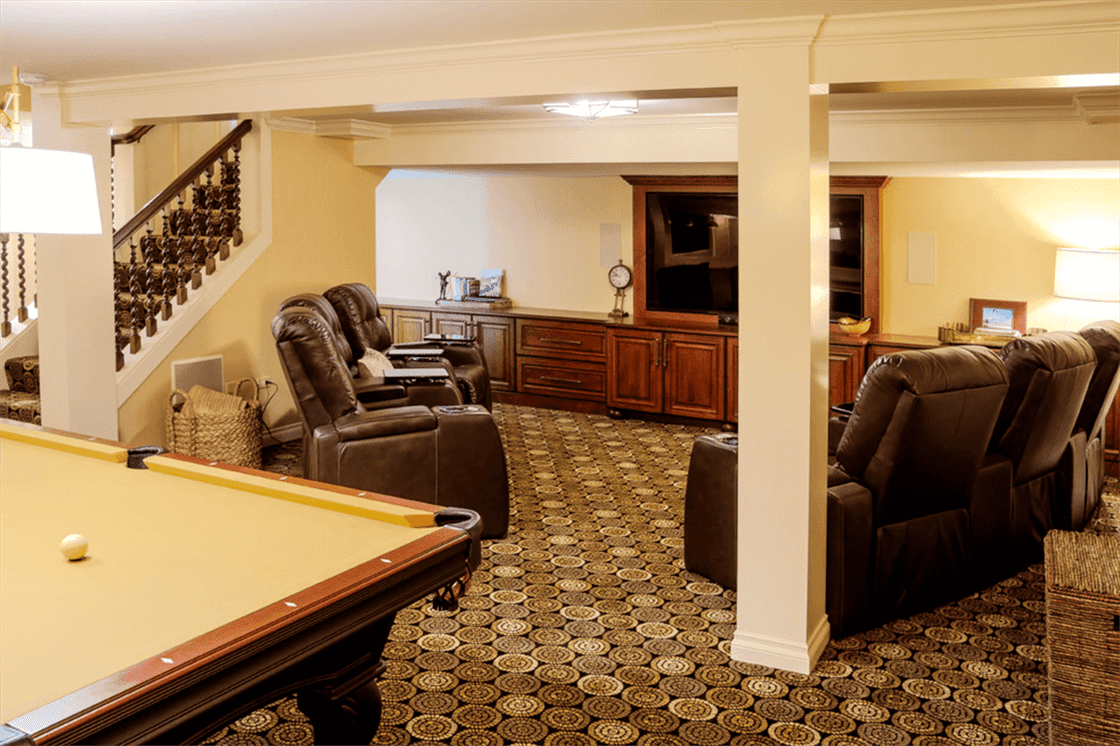 One of the biggest challenges the LaMantia team faced with this project was the staircase to the lower level. Both the stair run and tread depth needed to be lengthened to properly meet code requirements. The team needed to create more headroom on the staircase, which required them to cut a portion of the main beam and relocate it 18 inches. The team also added a second column at the end of the stairs to match the current, required, structural column, which allowed the last tread to decoratively wrap onto each side.
Basement Design Plans
As our team developed the basement design plans, many details from the main level home remodel were repeated in the lower level to create a flow between the two areas of the home. The built-in cabinets and mirrored doors of the basement bedroom can also be found in the main-level guest room. In the basement bathroom, the parquet-like tile floor speaks to the wood parquet flooring on the main level. The carpenter-built wainscoting also can be found in the main hall of the first floor.
The clients brought us a photo of stair spindles they loved, and we were able to incorporate custom walnut stair spindles into their basement renovation project. In the movie/TV area, the theatre seats are fully powered and designed to work with iPhones, iPads, laptops, and more.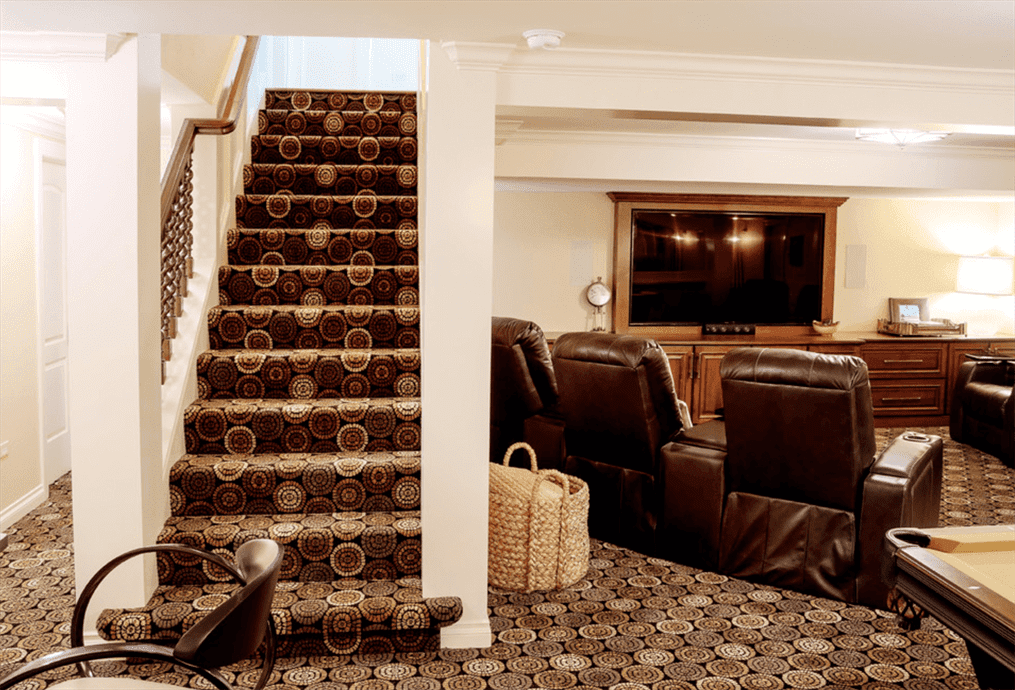 There's also a chalkboard scorekeeping area with game seating, and under the staircase, there's a private room with touch lighting and bean bag chairs for family members looking for a quiet spot.