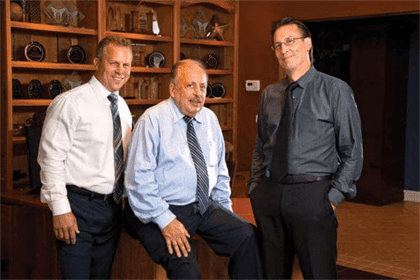 This article was originally featured in Hinsdale Living Magazine.
Quality, Honesty, Fairness
It's a very different world than when Tony LaMantia first opened the doors of LaMantia Design & Remodeling 43 years ago. In this day and age, of Pinterest boards and popular home remodeling shows, clients have a deeper understanding of everything that goes into a remodel, they have a more refined sense of the design that appeals to them, and they have a much higher expectation for quality workmanship. Those heightened stakes have only helped to solidify the stellar reputation of LaMantia Design & Remodeling, since they've been operating at the highest level with the best quality materials since they entered the industry in 1973.
"I'd say more than 75 percent of our business is from referrals," says LaMantia, the founder of the company.
Is there higher praise for the work done by a family business than decades of referrals in a competitive marketplace? Their A+ rating on the Better Business Bureau website speaks to that same devotion to quality, as does hearing from just one of their many happy clients:
"We are in love with our new kitchen! It could not be any more perfect. From the design to the materials to the ease of construction, it is easy to look at our kitchen with great appreciation to the entire LaMantia organization. Everyone was so patient with us and our millions of questions. Their patience helped us alleviate any nervous feelings we had. We always felt comfortable and well informed. The team truly cared about the project as much as we did and it shows in the final product. We miss you guys."
The LaMantia award-winning design team is made up of licensed architects, degreed interior designers, accredited kitchen and bath designers, and many dedicated, considerate tradesmen.
"Every phase of a project is handled by our team," says LaMantia. "You don't have to juggle various aspects of the job because we'll assign a design team and a project manager for you. They'll work side by side with you throughout the design layout and material selection processes and will stay with you until the project is complete. Your project manager will keep you abreast of all the details along the way."
The process of working with LaMantia Design & Remodeling is easy and has been refined by decades of interaction with satisfied customers. First, clients meet with a design consultant for a free consultation to discuss the project, the desired budget, and the time frame. The client's ideas are turned into sketches, interior and exterior renderings, and floor plans before they visit LaMantia's 8,000-square-foot showroom to shop for materials that perfectly fit their concept. Financial options are considered, and LaMantia has relationships with several banks in the area offering the lowest interest rates. After the client approves the blueprints and LaMantia takes care of all the necessary permits, a construction superintendent arranges the ordering and scheduling and the project begins. Clients are kept in the loop throughout the entire process up through the inspections, cleaning, and walkthrough. Every job comes with a full five-year guarantee.
"Our success has been built on quality workmanship, excellent service, great employees, and treating our customers with honesty and fairness," LaMantia says.
LaMantia Design and Remodeling is located at 20 E. Ogden in Hinsdale. You can reach LaMantia at 630-663-9900 or at https://lamantia.com.
LaMantia also offers complimentary consultations if you'd like to learn more about how home remodeling services.