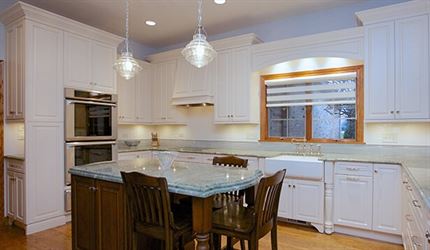 For homeowners that prefer a more open concept, a closed-off kitchen can feel cramped. That's what our clients wanted for their home. When we connected with clients, we discussed their dream of a modern, open flow, and to achieve that we would have to remove a wall between the kitchen and breakfast room
Opting for an Open Concept Kitchen
The kitchen remodeling project, led by LaMantia designer Gina Mazzone, CKD, CBD, and assisted by Annessa Zaharis, NCIDQ, began with a complete rendering of the new space with the wall removed during the design phase. Thanks to our outstanding software, our clients were able to get a realistic feel for being in the space, but to their surprise, our clients weren't as inspired by the larger open-concept kitchen as they expected to be.
Final Kitchen Remodel Design
Mazzone reworked the design and several approaches were considered. The final decision for this kitchen remodeling project was to remove the wall, extend a peninsula between the kitchen and breakfast bar, and create an over-bridge with cabinets to soften the transition. The end counter-wall cabinets featured glass doors on both sides to increase the feeling of openness.
Mazzone's kitchen design also included a new lighting plan and moving the kitchen/laundry room entry door to allow for a clear traffic path. The new location of the door allowed for a small desk at the end of where the double-oven is located. Since our clients enter their laundry room through the garage, the work station became the perfect place to drop briefcases, purses, keys, and more. The lower cabinet also included file space, creating an organized activity hub for the home.
The current pantry became the new refrigerator enclosure, and a new pantry was added with rollouts and built-ins to take advantage of every square inch during this kitchen remodel.
Cabinet Details Complete the Kitchen Design
To complete the kitchen design Zaharis chose unique features for the cabinetry details, which included decorative turned legs and toe boards, arched valances, staggered heights, and layered moldings.