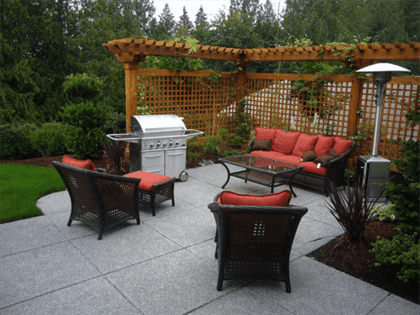 The backyard can be a place to avoid or a personal oasis where you go to celebrate or relax. If you love hosting outdoor events, you must get your backyard BBQ ready! Whether you need a backyard exterior design work in Hinsdale, or it just needs a little sprucing up, these tips can help.
6 Tips to Prep Your Backyard for Hosting
1. Go Green: Weeding and fertilizing your lawn will help it stay healthy and become a lush shade of green that will last all summer long!
2. Flower Power: You know curb appeal is important, but you can dress up your Naperville backyard as well. Plant some brightly colored flowers in pots of beds, and add mulch to keep the soil moisturized and plants hydrated. Plus, it adds a more professional look to your exterior design.
3. BBQ Ready: Whether you have a standard charcoal or gas grill or a full outdoor kitchen, it's a good idea to take a few days to get ready before any BBQs or events. Make sure everything is clean and working properly, and make sure you have all of your supplies ready to go. On the day of, you can create a space where people can add condiments and toppings to their food without holding up the grill line.
4. Raising the Bar: Add to the festivities by serving drinks at an outdoor bar. It provides a sturdy surface to prevent spills when serving your guests, and you'll be less likely to lose the bottle opener if you've got a dedicated beverage station as part of your exterior home design.
5. Take a Seat: While your guests will want to mix and mingle, it's important to have plenty of seating available for when friends and family want to eat. Picnic tables, an outdoor dining table table, or small bistro tables will work. It's ideal to have some tables covered with outdoor umbrellas, canopies, or a pergola, so people can enjoy the BBQ in the shade.
6. Light the Night: If your party will last into the evening hours, you'll want to set up some lighting so guests can continue to enjoy themselves after the sun goes down. You can string up cute lights overhead or include strategically placed lighting as part of your landscape design. Be sure to keep candles (and bug spray) on hand to keep away mosquitos.