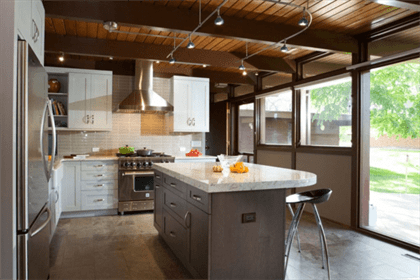 We're delighted to showcase this stunning kitchen & bathroom renovation.
Imagine the surprise of LaMantia designer Gina Mazzone when she arrived for the first appointment with her La Grange clients to find their ranch home had an unusual and unique design: Two back-to-back kitchens! There was also a powder room near these kitchens, but it was lacking a sink. This strange layout presented Mazzone with an interesting kitchen remodel challenge, and she rose to the occasion.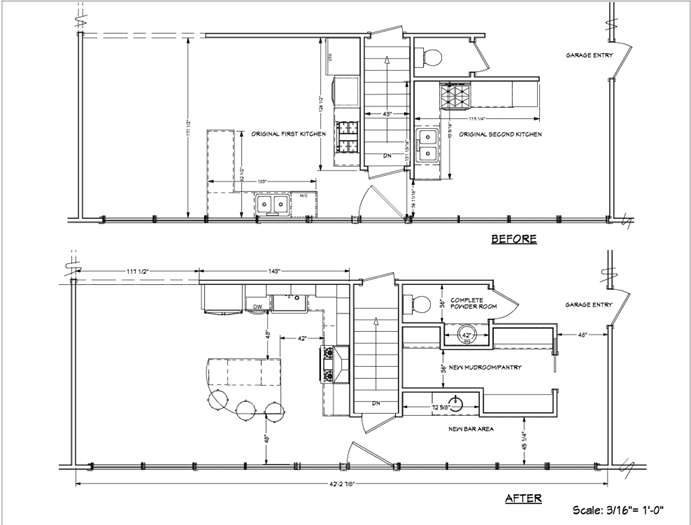 Kitchen Remodeling
The first step in Mazzone's kitchen design plan was to completely remove the section kitchen and bring a wall forward to create a bar area. The rest of this was space for a mudroom, and Mazzone was able to complete the powder room, which now includes a 42-inch vanity with a vessel bowl.
Kitchen & Bathroom Renovation
There are many details that add up to make this a great kitchen design in this Chicagoland home. The depth of the island countertops was increased to provide more workspace, and even the island support became a design feature with the new stainless steel column.
The stacked porcelain backsplash adds a luxurious feel to this space, and the rail lighting system was important because it replicates the shape of the island counter.
In the newly finished power room, ceiling boards that are original to the home were repurposed as wall finishes and installed horizontally to add some drama to this bathroom renovation.
The new kitchen layout not only improved the traffic flow in the home, but also opened up new functionalities within the space, and our La Grange clients were thrilled with the final product.