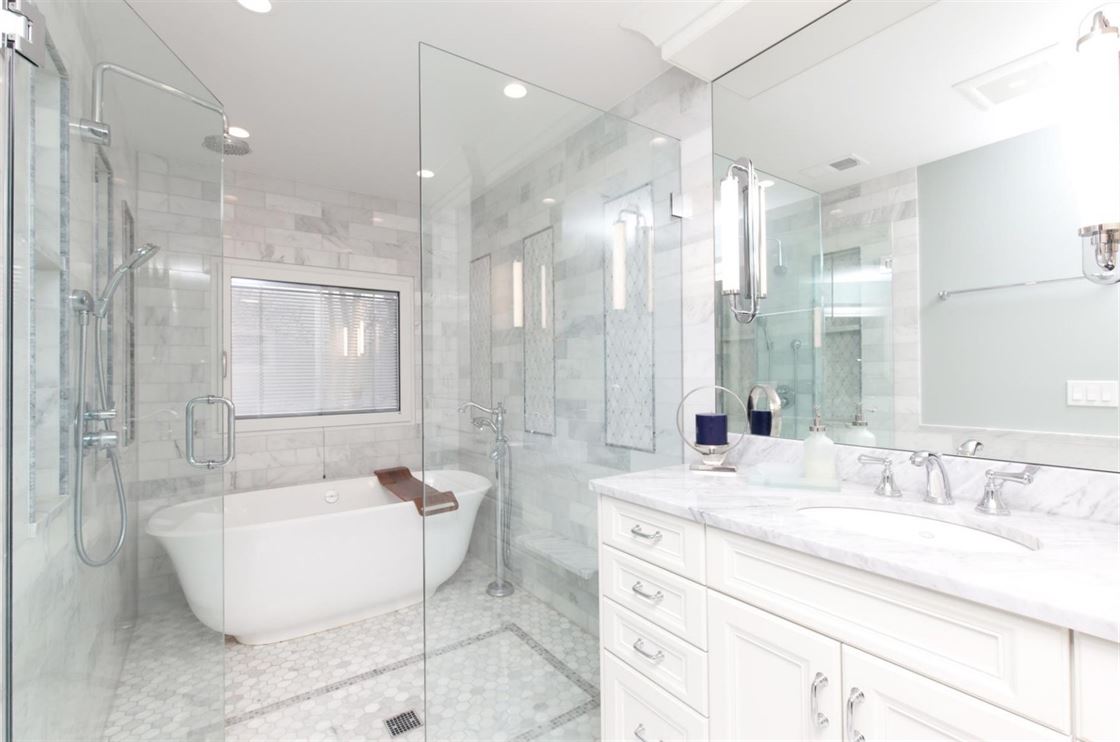 LaMantia is proud to announce that we've won two regional 2019 Chrysalis Awards. We won regional awards in the Bath Remodel Over $75K category with a Clarendon Hills Master Bathroom and the Residential Interior Under $150K category for a home in LaGrange Park.
Long Marble Beauty: Winning Bathroom Project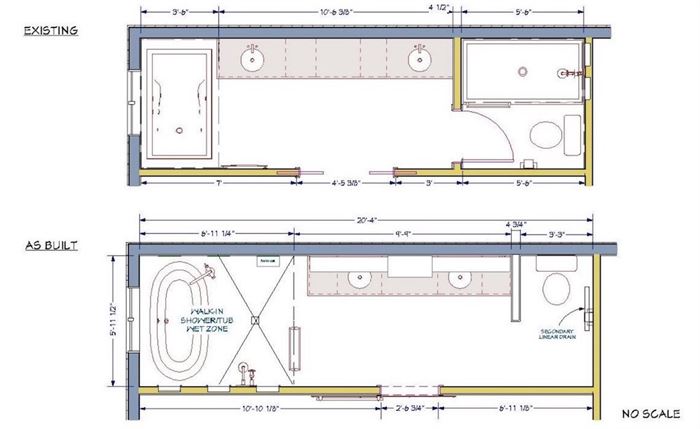 The winning bathroom remodeling project updated a 6-by-20-foot bathroom. Jackie Prazak served as the architectural designer and Annessa Zaharis, NCIDQ served as the interior designer.
Prazak reinvented this bathroom space with 21st-century details. Her design began with a wet zone – where the tub and shower would live in harmony, surrounded by beautiful marble.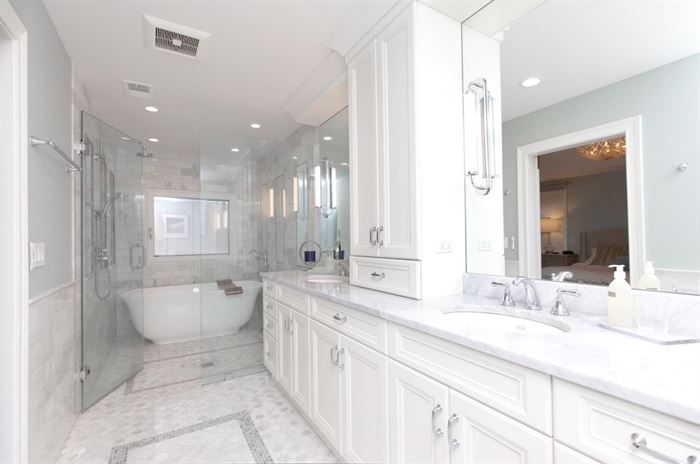 Achieving this barrier-free wet zone required major revisions to the existing floor system. Part of Prazak's challenge, within this area, was to ensure the tub remained on level ground while the shower pitched slightly towards the newly placed drain. When the homeowners requested a seamless vanity countertop, a small hoist was brought into the two-story foyer to lift the one-piece marble past the curved staircase and over the second story railing.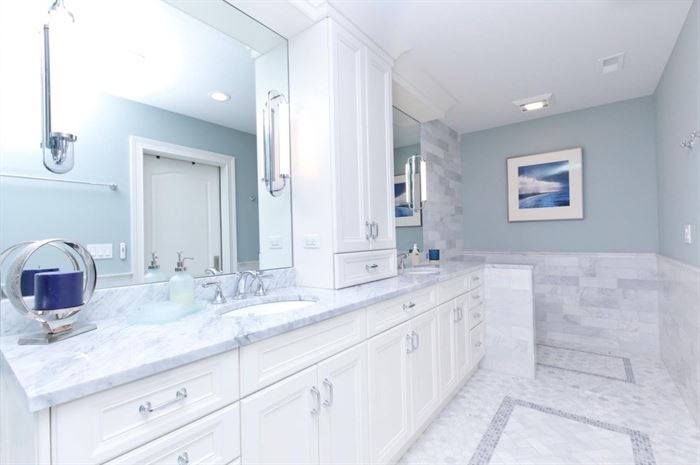 Prazak rounded out her design by replacing the existing bathroom window with an Awning window and moving the bathroom entrance to allow for the wet zone.  When the bathroom entry space, originally a double door, became a single door, Zaharis suggested the barn door approach and then found just the right one to fit the design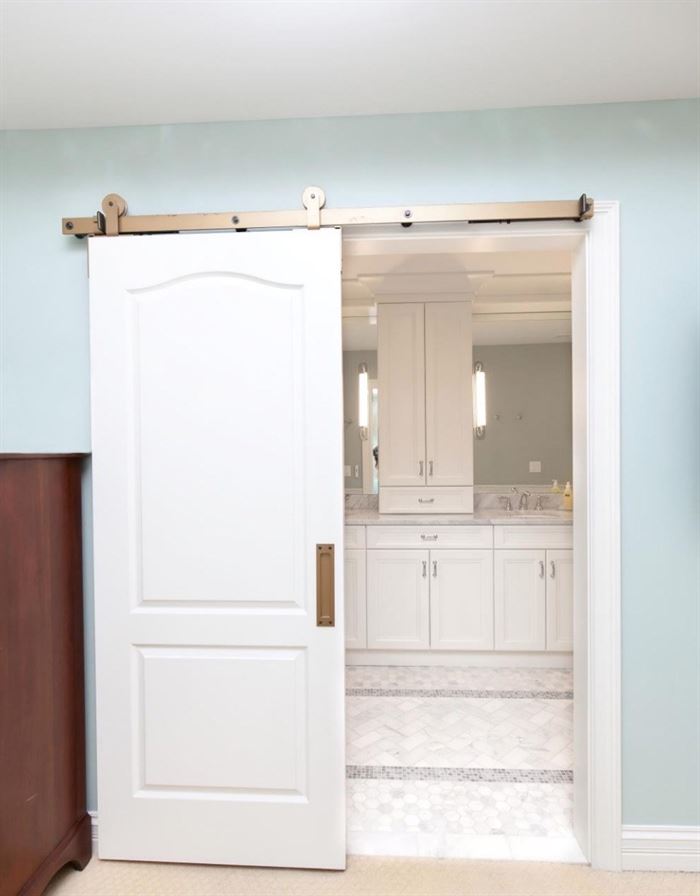 The end result is a beautiful, unique marble bathroom that the homeowners love.
Aging in Place Done Right: Winning Home Remodeling Project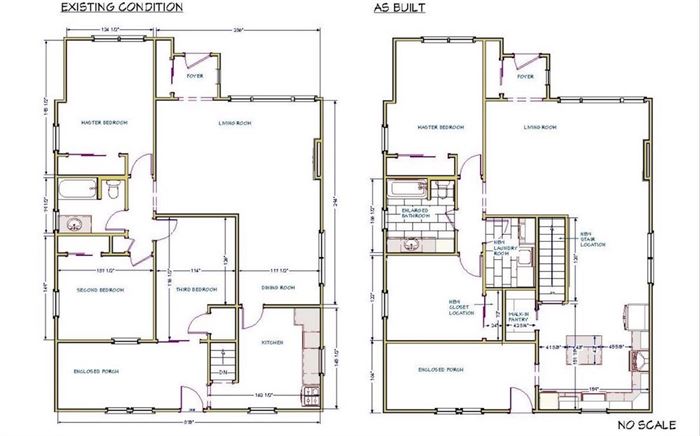 Architectural Designer Gina Mazzone CMKBD led the design for this residential interior project with Annessa Zaharis, NCIDQ serving as interior designer. The homeowners purchased a home with the goal of remodeling it to provide comfort as they aged.
The homeowners' wish list included enlarging the kitchen to accommodate an island, creating a first-floor laundry room, and enlarging the existing bathroom. They were not interested in ADA compliance; they just wanted larger, more open spaces.
The key to the success of this project was removing the third bedroom. This newly available space allowed Mazzone to design a larger kitchen, first-floor laundry room, and a new walk-in pantry in the kitchen. The second bedroom closet was also moved, which allowed space to expand the current bathroom.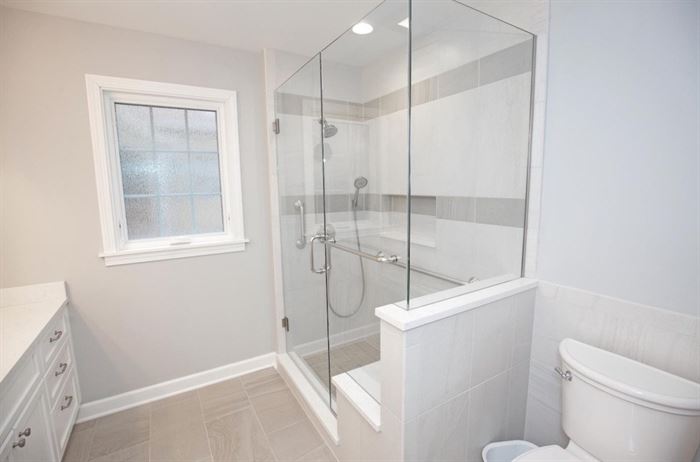 Not only did this project thrill the homeowners, but it also kept in mind a possible rebuild after the home is inherited or sold. The newly position staircase allows for a second story addition that would completely follow the original footprint of the home.
Interested in Home Remodeling?
If you're ready to start your own home remodeling project with an award-winning design and build team, contact LaMantia for a complimentary consultation.