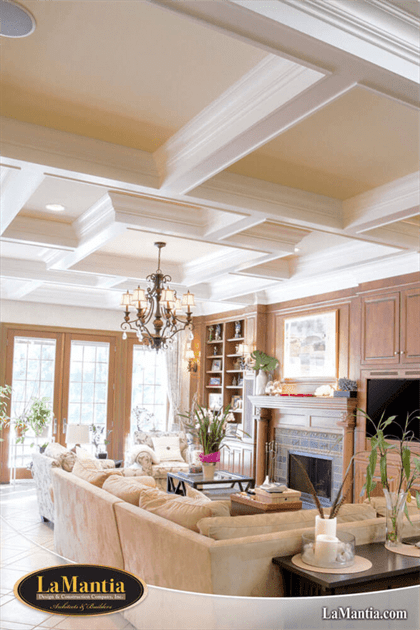 We're delighted to bring you this Hinsdale kitchen renovation.
This house greets you with soaring ceilings, layered moldings, a barrel-vaulted hall, and a spectacular staircase.
The problem with the house was that the existing kitchen didn't match the grandeur of the entranceway, so they hired us to do a full kitchen renovation.
LaMantia designers Andy LaMantia and Jackie Prazak designed and planned a new kitchen that better matched the rest of the home's interior.
Let There be Light
One of our clients' biggest complaints with their existing kitchen was how dark their kitchen was. Our design and build team focused on using light colors and plenty of lighting to brighten up the kitchen. Our team designed a soffit/coffered ceiling with several levels of lighting.
The overall lighting plan included cans, chandeliers, pendants, under-cabinet task halogens, and sconces.
Updating the Cabinets and Layout
Another aspect of this kitchen that wasn't working was the original dark, flat cabinets that stretched to the 10-foot ceiling.
The new kitchen cabinets were painted white kitchen transformation to the next level.
Our team changed the kitchen layout to provide a space fit for gourmet cooking. The new layout was completed with an 8-foot wide hood.
Hinsdale Kitchen Renovation Success
Upon completion of this project, our clients let us know that their kitchen was now a joy to live in and filled with warmth and comfort.