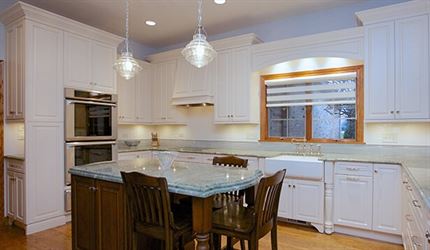 Our clients felt removing the wall between their kitchen and breakfast room was what they needed to do to have the kitchen of their dreams. With the guidance of LaMantia kitchen designer Gina Mazzone, CKD, CBD, aided by Annessa Zaharis, NCIDQ, the quest for the new kitchen space began. During the design phase, with the space completely drawn, the wall was removed and our clients could truly be "in the space", thanks to the outstanding software that was utilized. The larger open room did not quite hit the spot the clients were expecting.
After several approaches were considered and drawn, the final decision was made to remove the wall, extend a peninsula between the two spaces and then create an over-bridge with cabinets to soften the transition. The end counter-wall cabinets of the bridge were glassed both sides to allow the eye to easily travel from one space into the other, further enhancing the openness.
Mazzone's NKBA kitchen and bath education is the source that guides her while designing. Her decision to slide the kitchen/laundry room entry over allowed a clear traffic path to develop alleviating interference to the cook. The new door location also created space for a mini-tech desk at the end of the double oven elevation. Since the laundry room is entered from the garage, the work station is the perfect place to drop briefcases, keys, cell phones, laptops, chargers, etc. The lower cabinet was fitted with file space so, ultimately, this small space has become an organized hub of activity just steps inside the house.
The existing misshapen pantry, encumbered with a plumbing chase, was carved out to allow the new refrigerator placement. The new pantry space, although smaller, was completely fitted with roll-outs and built-ins to access every square inch.
Zaharis became the lead when it came to cabinetry details. The kitchen is now appointed with decorative turned legs and toe boards, arched valances, staggered heights and layered moldings.
Our clients have said that without the ability to "virtually see" the space and all the cabinetry drawings, prior to construction, they definitely would have ended with a much different result…and one that, quite possibly, would not have given them as much joy. With the new lighting plan and layered cabinetry details this open space has become a joy to come home too.