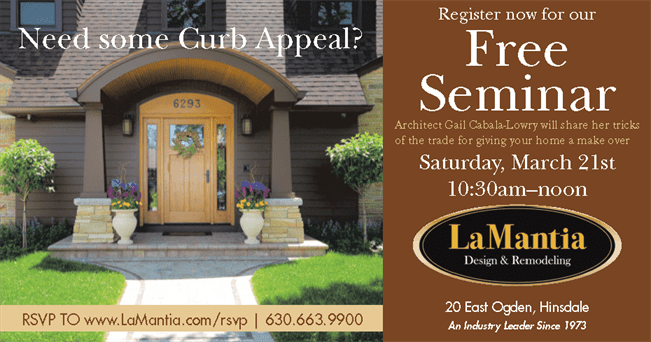 Want the front of your home to look more appealing but don't know what to do? 
Join LaMantia Architect Gail Cabala-Lowry, ALA, NCARB for an informative seminar that will help you learn design strategies and tricks of the trade for giving the front of your home that welcoming appeal.
Complimentary Exterior Renovations Seminar
The complimentary seminar will take place on Saturday, March 21, 2020 at the LaMantia showroom, in Hinsdale from 10:30 am to 12pm. You'll be able to explore the showroom and learn:
How to accentuate the front entrance

How to downplay the front facing garage 

How to blend additions with the original home design

How exterior renovations add value 

And more!
Spots will fill up quickly, so RSVP to register now. We hope to see you there and invite you to contact us with any questions about this seminar and exterior renovations.